Invite Turley
Birthday parties, Schools,Festivals, Banquets & Special events
Insure the success of your next event by having Turley there to provide the fun.
(301)927-4408
Email Turley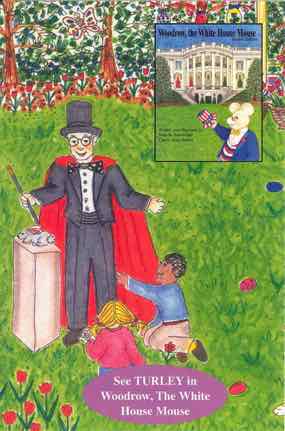 The best-selling children's book Woodrow the White House Mouse, features a "Turley Party" at the White House. Turley's articles on party planning have been featured in parenting magazines. Washington Families Magazine named Turley the "Best Kid's Party Entertainer."
Turley has appeared on the NBC Today Show. His antics have been mentioned on ABC News and in the Washington Post and Wall Street Journal. He has performed for royal families and has done five command performances at the White House.
A native of St. Paul, Minnesota, He received a B.A. in philosophy from the University of St. Thomas and a graduate degree. He studied comedy and acting in New York City with Bob McAllister, the television host of Wonderama and Kids Are People Too. Turley is the past president of the Washington Assembly of the Society of American Magicians. The International Brotherhood of Magicians has inducted him into the prestigious "Order of Merlin." When Larry King asked him how he got into magic, Turley told King that he had been "tricked into it!"